This is the most recent design for The Catholic Foodie. Below you will find the design evolutions of The Catholic Foodie.
++++++++++++++++++++++++++++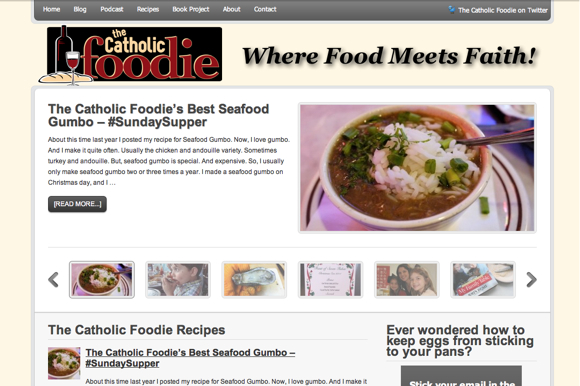 Yes, I am the Catholic Foodie. I don't know whether or not I can be my own client, but this is a recent project nonetheless. It was big project, too. Not design-wise, but with the content. I migrated three years worth of content from a Drupal platform to WordPress. There was no easy way to do it. I moved each post individually. Sure, there are ways to export and import posts across platforms, but none of those ways are foolproof. In my experience, those "shortcuts" often end up creating more work in the end. So, I migrated all the content manually.
Here's a screenshot of the old site: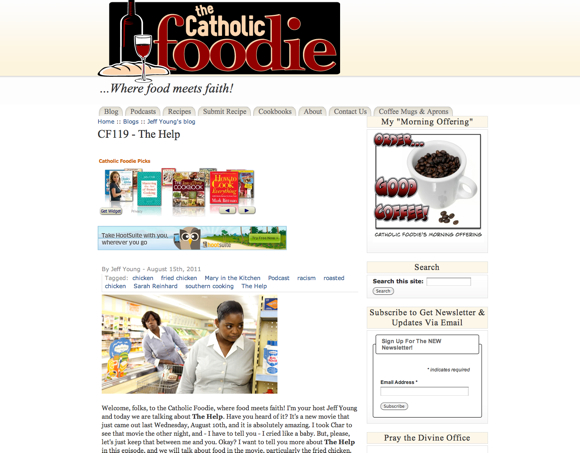 I started the Catholic Foodie on the Blogger platform and, after about 5 months, I quickly realized that Blogger was going to be too limiting. So, with some counsel and insight from a good friend, I moved the site to Drupal. Drupal offered so much flexibility. It really allowed me to customize many aspects of my site. However, there was a steep investment of time when it came to maintenance.
I've been working with WordPress for a few years now, and WordPress has come a long way as a dynamic CMS (Content Management System). An added bonus is that WordPress automates lots of the maintenance tasks.
Go check out the new site (currently at http://catholicfoodie.com) and let me know what you think!
CatholicFoodie.com is built on WordPress and powered by the Genesis Framework.